Canadian River Quarter Horses, Dr James Bailey and Lana Merrick-Bailey, congratulate Stacey & Darlene Roberts and Lindsey & Luke Jr. Baker on their purchase of the high seller at the BFA sale, Dash Ta Torres (Dash Ta Fame/Red Torres). Wishing you and your trainer, Hallie Hanssen, the best of luck.

Going Big Time Sales Co.
e 2018 "High Roller" Barrel Sale.
2019 VF Production Sale Cons
-Kinder Cup Barrel Horse Sale
Please click HERE for the Kinder Cup Barrel Horse and Prospect Sale CATALOG
THANK YOU SO MUCH TO EVERYONE FOR COMING TO THE VICTORY FARMS BARREL HORSE FALL SALE OCTOBER 5TH, AND THE PINK BUCKLE BARREL HORSE SALE OCTOBER 11TH!! WE THOROUGHLY ENJOYED SEEING EACH AND EVERY ONE OF YOU!
2018 BFA World Champion Barrel Horse Sale
- 2018 BFA WORLD BARREL HORSE SALE RESULTS!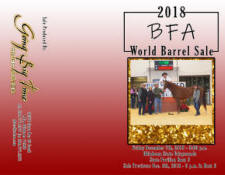 - Lance Graves Pro Classic Barrel Horse Sale
2016 Lance Graves Pro Classic Barrel Horse Sale RESULTS
2016 Lance Graves Pro Classic Barrel Horse Sale CATALOG
2014 Lance Graves Pro Classic Barrel Horse Sale RESULTS

Danny Ray, Owner
20376 State Hwy 99 South, Ada, OK 74820
Located Five Miles South of Ada
580-777-2877 fax 580-777-2878
Copyright 2020

Website Maintenance and Design by

Sharon Harrell